Tan W.S. and Bhore S.J., (2014), Flora and Fauna of the AIMST University: A Compilation of Quotations & Flora and Fauna Photographs to Promote Awareness about the Importance of Biodiversity and the Environment, the AIMST University, Malaysia.
Download Now: Flora and Fauna of The AIMST University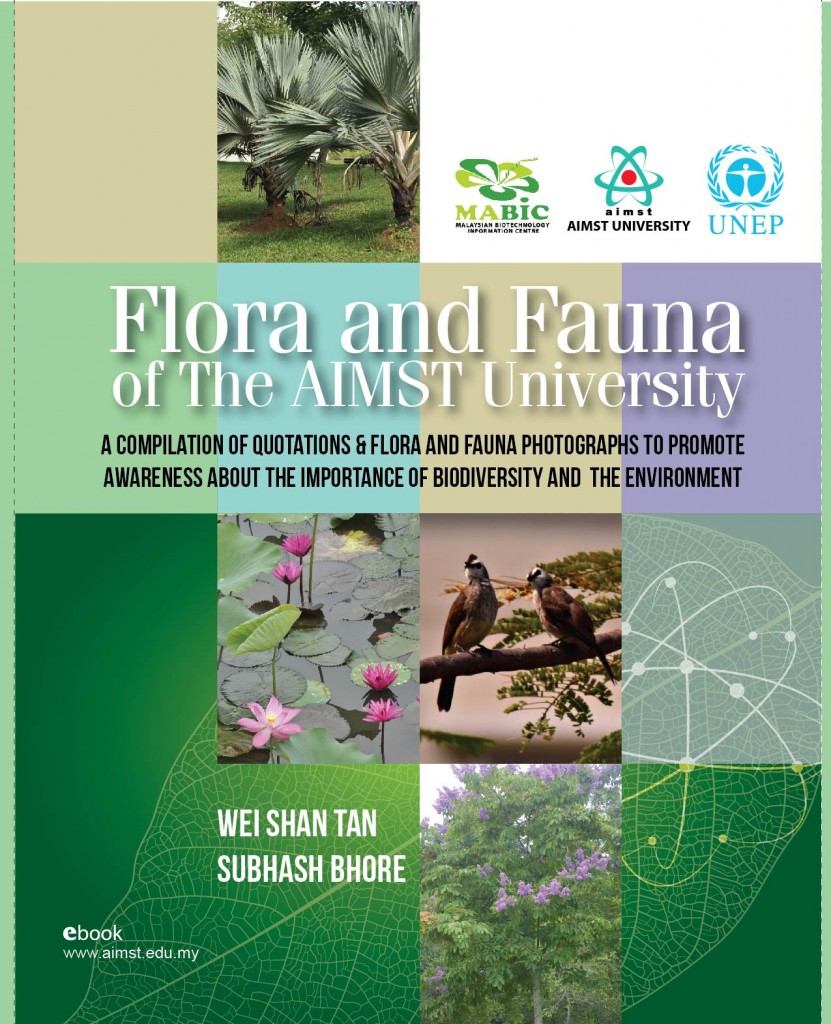 "I strongly believe that Universities around the world can play an important role in increasing the understanding and awareness of biodiversity and the environment, and its importance in the survival of the human race."
The main purpose of this book is to promote awareness about the importance of conserving biodiversity and the environment.The scientific names of the species stated in this book are based on the tentative identification of the respective species of the flora and fauna.
This book is our attempt to document the wealth of the AIMST campus with respect to trees, shrubs, birds, butterflies, fungi (mushrooms), insects, and the amphibians that are visually apparent.

---
---
The Flora:
Angiosperms
African Fan Palm
Agati
Aloe Vera
Areca Palm
Asian Rice
Avarum
Banana Plant
Basil
Beach Oak
Bellyache Bush
Bismarckia
Black Wattle
Blady Grass
Blue Egyptian Water Lily
Blue Pea
Breadfruit
Brinjal
Heart of Jesus
Caladium humboldtii 'Wightii'
Indian-kale
Hilo Beauty
Calamondin Orange
Cape Blue Water Lily
Cashew
Cempedak
Chinese Hibiscus
Clitoria
Coat Buttons
Coconut
Coral Swirl
Crane Flower
Cypressvine Morning Glory
Dragon Fruit
Drumstick Tree
Earleaf Acacia
False Asoka
Ficus Tree
Garden Balsam
Garden Spurge
Giant Crape-myrtle
Goat-weed
Golden Bamboo
Jambul
Kaffir Lime
Kentina Palm
Lotus
Madagascar Periwinkle
Malay Variegated Bamboo
Mango
Mexican Bluebell
Mexican Marigold
Neem
Okra
Oldham's Bamboo
Papaya
Paper flower
Persian Silk Tree
Purple Coraltree
Pygmy Water-lily
Red Ixora
Roselle
Royal Palm
Royal Poinciana
Rubber Tree
Ruffled Fan Leaf Palm
Rumpf 's Fig
Sabi Star
Snake Plant
Spanish Flag
Spider Lily
Sugar Cane
Tamarind
Teak
Temple Tree
Touch-me-not
Traveller's Palm
Umbrella Papyrus
West Indian Lemon Grass
White Aubergines
White Gum
Whitelead Tree
Wild Peanut
Windamere Palm
Gymnosperms
Platycladus
King Sago
Pteridophytes
Common Polypody
Uluhe Fern
Mushroom (Fungi)
Common Earthball
The Fauna
Birds
Asian Koel
Asian Glossy Starling
Black Drongo
Brown Shrike
Chestnut-headed Bee-eater
Chinese Egret
Chinese Pond-Heron
Common Iora
Common Myna
Common Tailorbird
Crested Serpent Eagle
Crow Phesant
Eurasian Tree Sparrow
Forest Wagtail
Grey-capped Pygmy Woodpecker
Jungle Myna
Lesser Whistling Duck
Olive-backed Sunbird
Oriental Drawf Kingfisher
Pacific Swallow
Paddyfield Pipit
Red-wattled Lapwing
Red Turtle Dove
Rock Pigeon
Scaly-breasted Munia
Scarlet-backed Flowerpecker
Spotted Dove
White-bellied Sea Eagle
White-breasted Waterhen
White-throated Kingfisher
Yellow-vented Bulbul
Zebra Dove
Fish
African Catfish
Comet Goldfish
Koi
Pangas catfish
Snakehead Murrel
Zebrafish
Reptiles
Asian Forest Tortoise
Common Wolf Snake
Malayan Pit Viper
Water Monitor
Mammals
Cat
Dusky Leaf Monkey
Plantain Squirrel
Wild Boar
Amphibians
Common Tree Frog
---
---
Insects
Arhopala horsfieldi basiviridis
Blue Pansy
Common Field Grasshopper
Common Three Ring Butterfly
Dark Small-branded Swift
Ditch Jewel
Empress Cicada
Flesh Fly
Giant Honey Bee
Golden Ant
Leaf-footed bug
Lesser Banded Hornet
Neurothemis fulvia
Pied Paddy Skimmer
Red Cotton Stainer Bug
Red-winged Dragonfly
Sapphire Flutterer
Slender Skimmer
Striped Albatross
Tropical Carpenter Bee
Termite
Weaver Ant
Gastropoda
East African Land Snail
Garden Snail
---