The final year pharmacy students successfully organized a community service project to three old folk homes located around Sungai Petani, Kedah. These activities were carried out on Friday, the 13th May 2016 from 9 am to 12 noon at Pusat Jagaan Ming Yuet Senior Citizen Home, Pusat Jagaan G (Warga Tua Berkediaman) and Kebajikan Kasih Malaysia, respectively.
A total of 100 students in this cohort were divided into three groups and each group assigned to one of the three mentioned old folks homes. One lecturer took charge of each group to provide guidance. Approval for the visit was obtained from Pejabat Kebajikan Masyarakat Daerah Kuala Muda.
The objectives of the activities were to expose the students to public health activities, inculcate social responsibilities, promote rationale use of drugs and improve counselling skills. Basic health screening exercises like blood pressure monitoring, blood sugar screening and body mass index measurements were carried out by the students. The pharmacy students took this opportunity to perform home medication reviews, provide advices on proper storage of drug and identify any pharmaceutical care issues involved.
Apart from this, cultural events were performed by students which included singing and dancing to cheer up the elderly. Essential items such as rice, crackers, adult's diapers, Milo®, oats, mugs and old clothes were raised and donated to these three old folks homes.
Students who participated in this event enjoyed the various activities and gained experience on how to provide proper care to geriatric patients. Students worked as a team and appreciated its importance in a healthcare setting. In conclusion, these activities provide a good opportunity for the pharmacy students to gain motivation and experience in community service and thereby establish new relationship with the local care centres. With this project our students have realised and conveyed a strong message to the old folks in the homes 'When life gives you a hundred reasons to breakdown and cry, show life that you have thousand reasons to smile and laugh' – STAY STRONG AND BE HAPPY dear old folks.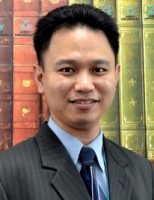 Contributed by:
Mr. Ng Yen Ping
, AIMST University, Malaysia.
Source:
AIMST E-Bulletin Volume II Issue II (July 2016)