National Medical Conference 2016
"Bridging the gap between Medical Education and Clinical Practice"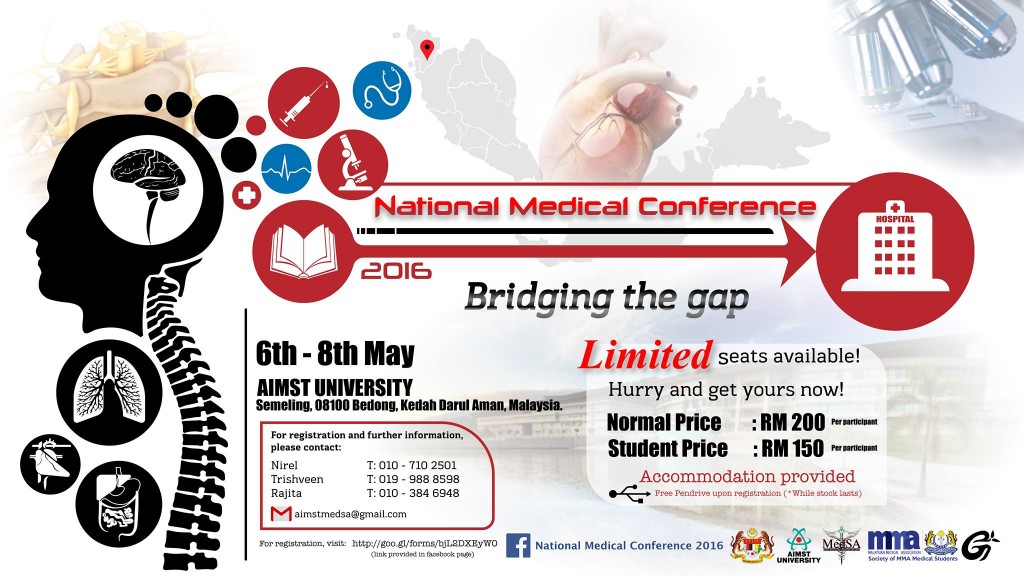 Date : 06.05.2016 – 08.05.2016 (Friday – Sunday)
Duration : 3 days
Time : *Refer to uploaded schedule below
Venue : AIMST UNIVERSITY, 08100 Bedong, Kedah Darul Aman, Malaysia.
* Accommodation provided
* Free pendrive upon registration (*while stock lasts)
Normal Price : RM 200 per participant
Student Price : RM 150 per participant
Limited seats are available. Please register early to secure a place
– For enquiries, please contact:
1. Nirel 010 – 710 2501
2. Trishveen 019 – 988 8598
3. Rajita 010 – 384 6948
E-mail: [email protected]
---
Introduction
Hey there Medical Junkies! Are you guys ready for another power packed conference? Bridging The Gap calls all fresh medical graduates, housemen and even Medical students to experience 2 days full of jammed pack HOT medical issues straight from the textbooks to clinical practice. Nation famous Speakers right in front of you.
Our speakers will provide insightful ways to tackle all the current medical issues so that they will be at your fingertips in no time. This conference is not one to be missed. What are you waiting for? Sign up now to reserve your place in our conference. Seats are limited to 200 participants. Free pendrive will be given to early birds while stock last.
We look forward to seeing you there!
For registration, visit:
http://goo.gl/forms/bjL2DXEyW0
Thank you
Regards
MedSA
Event Flow
---
Our speakers
Dr Billy Ch'ng

National Medical Conference 2016 proudly presents our 1st keynote speaker —Dr Billy Ch'ng.
Dr. Billy Ch'ng is a renowned interventional Cardiologist in our country.
He received his MD degree from USM, Malaysia in 1999 and was conferred MRCP (UK) in 2005.
After pursuing his subspecialty training in Cardiology in year 2008, he even further his training in advanced interventional Cardiology in Korea University , South Korea which shows his interest in Cardiology- the study of Heart.
Not only that, he was also elected as a Fellow of National Heart Association of Malaysia in 2012 and he is now head of Cardiology in Kedah.
Besides being a caring cardiologist, he is also a great educator. He inspires and trains lots of undergraduate and post graduate doctors including Master of medicine and MRCP candidates. As a cardiologist himself, he involved in training the cardiologists.
He has vast experience in coronary arteries and peripheral arteries intervention, intravascular imaging such as Optical Coherent Tomography and Intravascular ultrasound, acetylcholine provocation test. His key interests are in internal medicine and vascular intervention especially the final frontier of PCI such as Chronic Total Occlusion , pacemaker implantation and cardiac imaging .
Stay tuned for the topic Dr Billy will be sharing with us as a cardiologist.
---
Dr. Sunita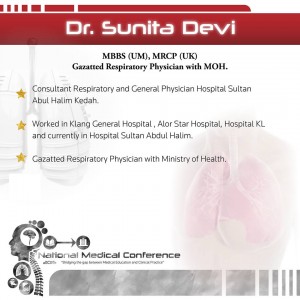 – Introducing Dr. Sunita
Consultant Respiratory and General Physician
Hospital Sultan Abdul Halim, Kedah
"Do it Anyway
People are often unreasonable, illogical, and self-centered.
Forgive them anyway.
If you are kind,
people may accuse you of selfish ulterior motives.
Be kind anyway.
If you are successful,
you will win some false friends and some true enemies.
Succeed anyway.
If you are honest and frank,
people may cheat you.
Be honest and frank anyway.
What you spend years building,
someone could destroy overnight.
Build anyway.
If you find serenity and happiness,
they may be jealous.
Be happy anyway.
The good you do today,
people will often forget tomorrow.
Do good anyway.
Give the world the best you have,
and it may never be enough.
Give the best you've got anyway.
You see,
in the final analysis it is between you and God;
it was never between you and them anyway."
Join her session on 7th May, only in National Medical Conference 2016.
Dr. Kunasegaran A/L Kannaiah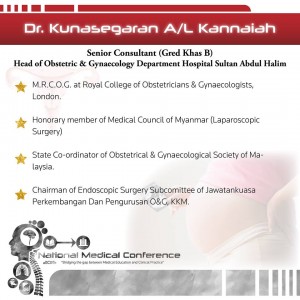 Introducing Dr. Kunasegaran A/L Kannaiah
Senior Consultant (Gred Khas B)
Head of Obstetric & Gynaecology Department Hospital Sultan Abdul Halim

"Every woman is a gift when she becomes a daughter, Every woman is beautiful when she becomes a lover, Every woman is special when she becomes a wife, Every woman is a god when she becomes a Mother"
― Vivek Thangaswamy
Join his session on 7th May, only in National Medical Conference 2016.
---
Dr Venkata Pavan Kumar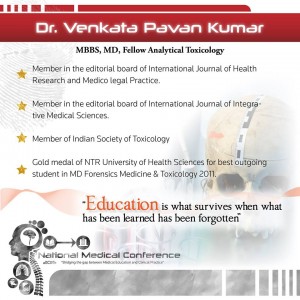 Introducing Dr Venkata Pavan Kumar
MBBS, MD, Fellow Analytical Toxicology.
A passionate, dedicated doctor skilled and experienced in his field of practice. Dr Pavan caught not only criminals via the application of medical knowledge, but also the hearts of the students he taught.
Join his session on 7th of May in National Medical Conference 2016!
Academic Qualifications:
– MBBS (Guntur Medical College, India)
– MD (Forensic Medicine & Toxicology)
– Osmania Medical College India.
Gold medal of NTR University of Health Sciences for best outgoing student in MD Forensics Medicine and Toxicology 2011.
– Certi. Analytical Toxicology,
Amrita Institute of Medical Sciences, India.
– Fellowship in critical care medicine, Apollo hospitals, India.
---
Dr Noor Azlina Bt Kamis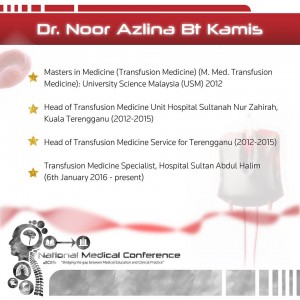 Next up, Dr Noor Azlina Bt Kamis

"The red river of life is one not to be tampered with unless equipped with the knowledge of the descending bloodlines. "
Join her in her session on 8th May, and with us in National Medical Conference 2016.
Education:
– Medical degree (M.D.) University Padjadjaran, Bandung (2002)
– Masters in Medicine (Transfusion Medicine) (M. Med. Transfusion Medicine): University Science Malaysia (USM) 2012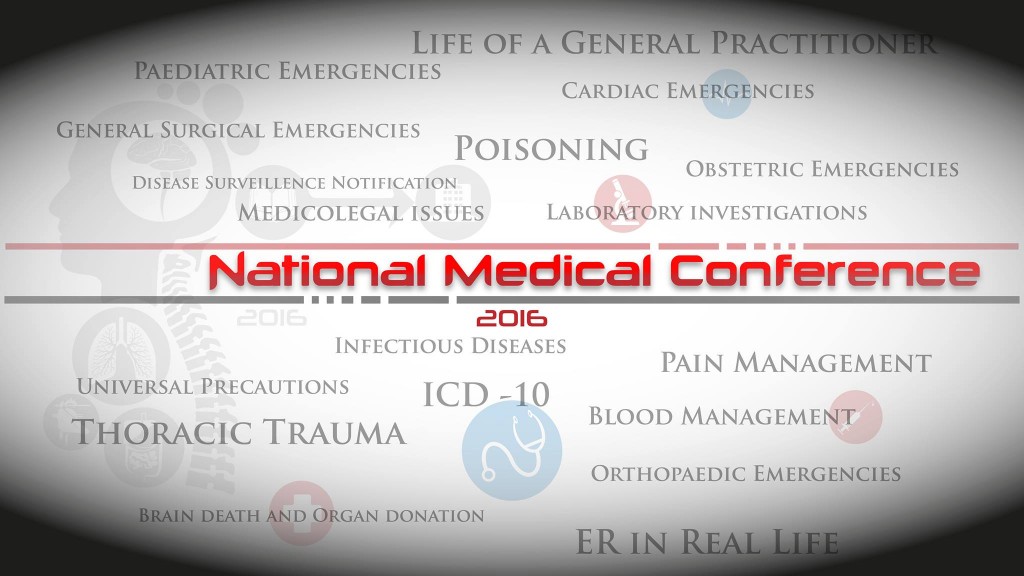 Information adapted from MedSA facebook page.
https://www.facebook.com/nationalmedicalconference2016/