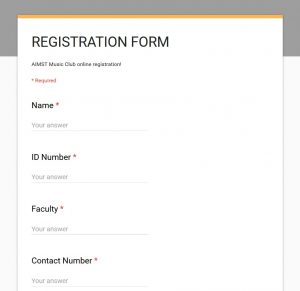 Greetings Aimsters!
Missed out the registration for Music Club? No worries. AIMST Music Club is currently opening an online registration for those who are interested!
How to register yourself as a member:
1) Click into the link provided below": https://docs.google.com/forms/d/e/1FAIpQLScXLPf1yMNmBq8H_mtXRhrEfEKQBH_02-cDKd3UC58Now426g/viewform?c=0&w=1
2) Fill in the registration form
3) Click 'submit'
4) Pass the RM5 registration fees to anyone of the following:
Wong Zi Chiann (016-5902498)
Jovy Loo (016-4512255)
Loh Shien Yee (012-5335255)
Loh Yih Ying (012-4783493)
or You can also pass up the registration fees during Music Club meeting!
Gentle Reminder to our members:
Our next meeting will be scheduled on 31st March 2016 (Thursday) at cultural room (Above ATM). Do join us if you wish to learn Ukulele!
No matter from which faculty you are, music unite us all.