Source: AIMST E-Bulletin Issue I (October 2015)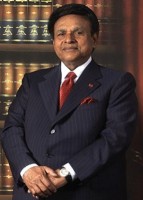 In 1984, to contribute in providing education to the deserving and needy students, the then President of the Malaysian Indian Congress (MIC), Dato' Seri Utama Dr. S Samy Vellu established the Maju Institute of Educational Development (MIED) as an educational arm of MIC. In accordance with the Malaysia's national education policy and echoing the call to transform Malaysia into the education hub, MIED embarked on a mission to establish a state-ofthe-art private University in the country.
In year 2000, MIED's application for establishment of the university was approved by the Malaysian Government and the Kedah State Government has kindly alienated a piece of land on which, MIED built the university campus. The ground breaking ceremony for the University's campus in Semeling was officiated in the year 2000 by YAB Dato' Seri Syed Razak bin Syed Zain, the then Chief Minister of Kedah.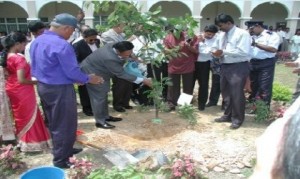 In year 2001, MIED established the 'Asian Institute of Medicine,Science and Technology (AIMST)' and Tan Sri Datuk Dr. K.Ampikaipakan was formally appointed as the Chairman. An interim campus was established in Amanjaya, Sungai Patani, Kedah. The Malaysian Private Higher Education Department (IPTS), Ministry of Education and National Accreditation Board (LAN) approved the application of AIMST to conduct its first programme, 'Matriculation' which is now renamed as 'Foundation in Science'.
The AIMST was thus registered in 2001 as a private institution under the Private Higher Education Institution Act 1996 (Act 555). In 2002, the IPTS approved 'Bachelor of Medicine and Bachelor of Surgery (MBBS)' degree programme as the first degree programme of AIMST. Based on the needs,several expatriate academic staff were recruited.
---
---
In 2003, Ministry of Home Affairs approved application of AIMST to allow international students to enrol into its degree programmes. AIMST then introduced several first degree programmes in the area of biomedical, paramedical,non-medical domains and various postgraduate degree programmes with affordable tuition fee.
In 2004, IPTS approved the application for MSc Biotechnology (by research) as the first postgraduate degree programme. In 2006, the first batch of Bachelor of Science (Biotechnology) students successfully completed their degree programme from AIMST. Simultaneously, the management secured a temporary certificate for building fitness for relocation to the new campus in Semeling.
On 26th July 2007, Minister of Higher Education, YB Dato' Mustapa Mohammed, visited AIMST's newly established campus and subsequently
AIMST was officially granted University status. The Opening Ceremony of the AIMST University's new campus was inaugurated by YAB Dato' Seri
Abdullah Haji Ahmad Badawi, the then Prime Minister of Malaysia on 17th August, 2008. The inaugural convocation was held on 17th October 2008, under the gracious presence of the proclaimed Chancellor of the university, Dato' Seri Utama Dr. S Samy Vellu.
In 2008, Public Service Department (PSD) approved the granting of scholarships for AIMST University students and thus became the 5th private university accredited for PSD scholarships. The newly built AIMST campus was well-equipped with state-of-the-art teaching, student centred facilities, laboratory facilities, health clinic, dental clinic, clinical skills lab, drug information and patient counselling centre. Certificate of Accreditation from the Malaysian Qualifications Agency (MQA) for all courses were sought and obtained.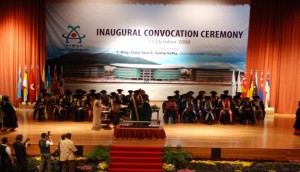 In 2013, the Faculty of Pharmacy was awarded with ISO 9001:2008 IQNet certification for QMS. A meaningful and smart partnership is very important for every institution of higher learning (IHL) in order to flourish and make a recognizable impact in society and education industry. AIMST University, thus established collaborations with several academic and non-academic institutions including various local, international universities and companies. Post graduate courses, i.e., MBA (Healthcare Programme), MSc (Human Anatomy/Medical Physiology/Medical Biochemistry and Medical Microbiology), and Master of Pharmacy (Clinical Pharmacy) were started at different point of time after provisional accreditation by MQA and licensed by Ministry of Higher Education.
---
---
AIMST University is well-equipped with various kinds of modern facilities and in a nationwide survey (2011), AIMST was ranked 3rd for having excellent sports and recreational facilities, ranked 2nd among five top Higher Education Provider (HEP) where students feel very safe, and rated 5th among five top HEP's having a conducive learning environment. AIMST was ranked and listed among the "Top 10 Public and 10 Private Universities" in Malaysia Journal Citation Report of 2012 by Thompson Reuters. In 2013, the Faculty of Medicine was recognized by World Health Organization (WHO) and it is also listed in the Avicenna Directory for medicine.
AIMST University's vision to excel is well recognized and supported by the management to achieve greater heights. AIMST University has become a full-fledged university within a span of 15-years and has made a significant impact in the education industry.
In order to sustain, grow holistically and remain competent, AIMST is taking appropriate measures to develop and enhance its infrastructure, alumni participation, upgrade existing curriculum, strengthen the research and innovation, establish national and international networks to remain competent and achieve the excellence.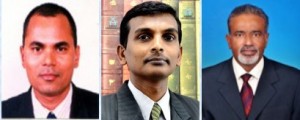 Reference: A Bird's Eye View of the AIMST University, the AIMST University publication, Malaysia, in Press.
Contributed By: Dr. Subhash J. Bhore, Dr. Sundram Karupiah & Mr. Abdul Nazer Ali, AIMST University, Malaysia.

---