Download Now:AIMST eBulletin Issue I October 2015.
AIMST E-BULLETIN has been started with the intention of disseminating information about the academic, research and other exciting activities of AIMST University. It will also be a platform to share relevant useful information among the staff and students.
Chief Executive & Vice Chancellor's Desk
Greetings.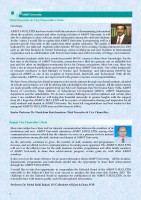 AIMST E-BULLETIN has been started with the intention of disseminating information about the academic, research and other exciting activities of AIMST University. It will also be a platform to share relevant useful information among the staff and students.
At the outset, I would like to update that AIMST University is progressing well as a premier private University in this region that offers quality education. The quality is indicated by our staff and students achievements. We have been creating exciting milestones for 2015 such as, the first Bachelor in Dental Technology course in Malaysia and new frontiers in International cooperation such as collaboration with French universities and with University of Ottago, NewZealand.
Our talented academic staffs have created successful MOOC courses to share their knowledge. For the first time in the history of AIMST University, researchers have filed two patents, one on inflatable bed pan and the other on intelligent monitoring device for Dengue mosquitoes. Since last year, there has been a rise in research publications and research grants from AIMST University. One of the testimonies of research excellence is that Ministry of Science and Technology and Innovations (MOSTI) has approved AIMST as one of the recipient of ScienceFund, InnoFund and Technofund. With all the achievements, AIMST is now moving forward with greater corporate social responsibilities.
We have been offering free dental treatment to the needy patients through our dental institute, adopted 14 schools and in future, we will be offering full scholarship to the needy students. All the achievements are made possible with great support from our beloved Chairman Dato Seri Utama Samy Vellu, AIMST Board of Governors, Maju Institute of Educational Development (MIED), AIMST Maintenance department and the stakeholders. We do have certain challenges in staff recruitment and certain other areas. I am confident that we will bring this beautiful university to greater heights with the support from all. I hope this AIMST E-BULLETIN will be a source of information sharing and inspiration for all staff, students and alumni of AIMST University. My heart felt congratulations and best wishes for this inaugural AIMST E-BULLETIN issue and the issues to follow.
Senior Professor Dr. Manickam Ravichandran, Chief Executive & Vice Chancellor.
Deputy Vice Chancellor's Desk
Most universities have their tool for internal communication between the members of its institutions and now, AIMST University introduces AIMST E-BULLETIN, among other communication resources which has the objective to serve as a primary tool for internal
communications among the staff, students and alumni of AIMST University.
As the university continues to grow, the number of staff, students and programmes increase, and an official tool for communication is becoming more apparent. The AIMST E-BULLETIN will serve as the official venue for the staff, students, faculties, programmes and other family members of AIMST University to share their achievements, progress, events, goals etc. with other AIMST members.
It also serves as the main reference for accurate information about AIMST University. All the faculties, departments, programmes and individuals should take the opportunity to share their achievements through the AIMST E-BULLETIN.
I would like to take this opportunity to congratulate the Editorial Board of the AIMST E-BULLETIN especially to the Editor-in-Chief for your success to produce the first issue this October 2015. The challenge is for the Editorial Board to maintain the publication of the AIMST E-BULLETIN on the scheduled time with utmost quality and relevant updated information.
Professor Dr. Mohd Baidi Bahari, DVC (Student Affairs) & Dean, FOP.
---
Registrar's Desk
I am delighted to extend my greetings to Staff and the Students of AIMST University.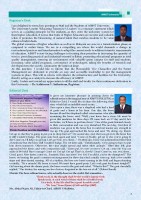 The University's motto "Educating Tomorrow's Leaders" is a visionary statement which serves as a guiding principle for the students, as they enter the university system for their higher education. It is true that fruits of Higher Education are sweeter and valuable when it promotes the blossoming of natural talent that enriches students to be value enhanced individuals.
The global scenarios of higher education as well as in Malaysia are now in a transformation phase as compared to earlier times. We are in a compelling era where the world demands a change in conventional practices and transformation to adapt the current needs to address futuristic requirements of education. AIMST is now facing challenges in focusing their priorities in increasing the quantity of service, providing practical and industrial-oriented syllabus, promoting educational programs in total quality management, ensuring an environment with valuable green campus for staff and students, increasing value added programs, convergence of technologies, taking the benefits of research and development to the society, community the nation at large.
At this juncture, I would like to inform that the Honourable Vice Chancellor and the Senior Management are dedicated to provide an easy and accessible leadership to put the management systems in place. This will in return, will enhance the infrastructure and facilities for the University; thereby acting as a catalyst to increase the efficiency of AIMST.
Lastly, I salute and extend my appreciation to all the staff and faculty for their continuous dedication to this University.
— Dr. Kathiresan V. Sathasivam, Registrar.
Editorial Desk
It gives me immense pleasure in penning down the editorial section in the inaugural issue of AIMST E-BULLETIN, as Editor-in-Chief. I would like to share the following short story which left an indelible mark on me. …
Once upon a time, there was a shepherd who had a herd of goats and a horse in his farm. One day, the horse became ill and the shepherd called veterinarian, who after examining the horse, said, "Well, your horse has a virus. He must be given this medicine for three days. I'll come back on 3rd day and if he's not better, we'll have to put him down."

One of the goats listened closely to their conversation and was very disturbed. The next day, first shot of medicine was given to the horse but, it could not muster any strength to rise up. The goat approached the horse and said, "Be strong, my friend. Get up or else they're going to put you to sleep forever!" On second day, next shot was given to the horse but, it still wouldn't budge.

The goat came back again and said, "Come on buddy, get up or else you're going to die! Come on, I'll help you get up. Let's go! One, two, three…" On third day, horse was administered third shot of medicine but, the horse still wouldn't budge. The vet later said, "Unfortunately, we're going to have to put him down tomorrow. Otherwise, the virus might spread and infect other animals." After they left, goat approached the horse, and with compassion said, "Listen pal, it's now or never! Get up, come on! You can make it! Be bold! Have courage! Come on! Get up! Get up! That's it, slowly! Great! Come on, one, two, three… Good, good. Now faster, come on… Fantastic! Run, run more! Yes! Yes! You did it, you're the champion!!!" The horse, on hearing the goat's constant encouragement for three days had actually risen up, took a few nimble steps and then started running. All of a sudden, the boss saw horse running in the field and began shouting excitedly, "It's a miracle! My horse is cured. We must have grand party. Let's cook goat for dinner tonight!!!"

On knowing about the dinner party, the horse went to the goat and asked, "What is this?" The goat cheerfully replied, "Our destiny lies among our free choices, disguised as the free-est of all." (Robert Brault)
Morale: The boss seldom knows, who actually deserves the credit.But remember…
'Think truly, & thy thought shall be the world's famine feed;
Speak truly, & each word of thine shall be a fruitful seed;
Live truly, & thy life shall be a great & noble creed'.
-"Be True," from Hymns of Faith and Hope (1867).
Mr. Abdul Nazer Ali, Editor-in-Chief, AIMST E-Bulletin.
---
More stories on AIMST University
1. The Making of AIMST University
From Handbook of The Official Opening of AIMST University New Campus Semeling, Kedah Darul Aman by YAB Dato' Seri Abdullah Bin Haji Ahmad Badawi Prime Minister of Malaysia.
2. History of AIMST University
From AIMST E-Bulletin Issue I (October 2015)