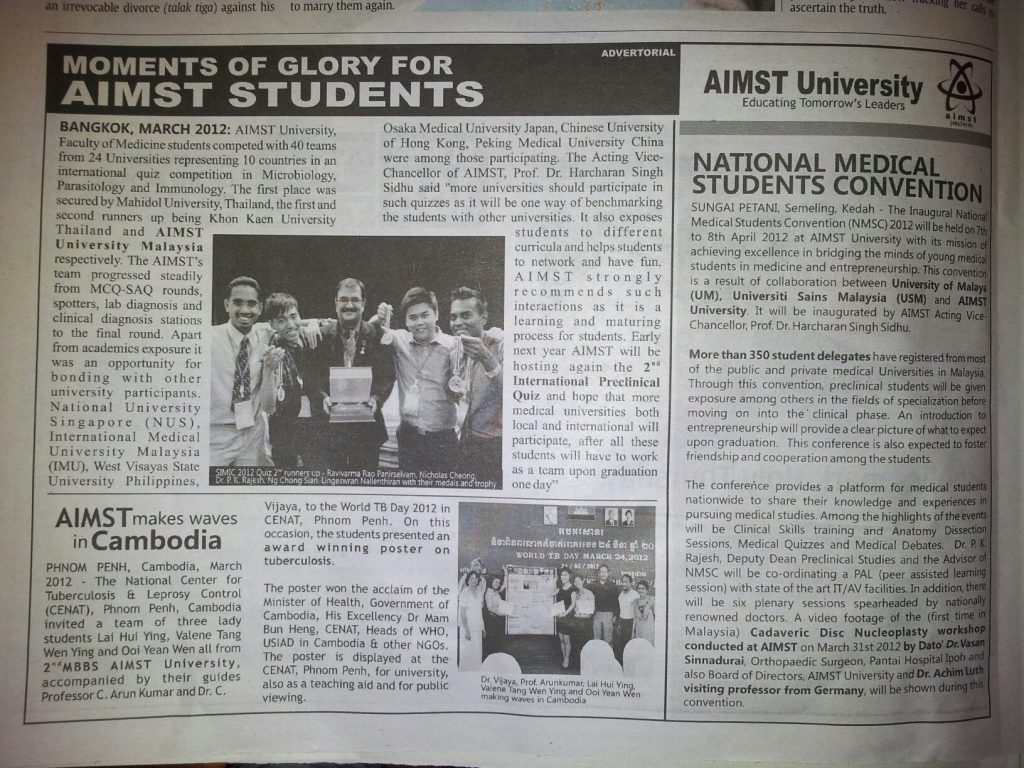 Moments of Glory for AIMST Students
Posted in New Straits Times on 6th April 2012.
BANGKOK, MARCH 2012: AIMST University, Faculty of Medicine students competed with 40 teams from 24 Universities representing 10 countries in an international quiz competition in Microbiology, Parasitology and Immunology.
The first place was secured by Mahidol University, Thailand, the first and second runners up being Khon Kaen University Thailand and AIMST University Malaysia respectively. The AIMST's team progressed steadily from MCQ-SAQ rounds, spotters, lab diagnosis and clinical diagnosis stations to the final round.
Apart from academics exposure it was an opportunity for bonding with other university participants. National University Singapore (NUS), International Medical University Malaysia (IMU), West Visayas State University Philippines, Osaka Medical University Japan, Chinese University of Hong Kong, Peking Medical University China were among those participating.
The Acting Vice-Chancellor of AIMST, Prof. Dr. Harcharan Singh Sidhu said "more universities should participate in such quizzes as it will be one way of benchmarking the students with other universities. It also exposes students to different curricula and helps students to network and have fun. AIMST strongly recommends such interactions as it is a learning and maturing process for students. Early next year AIMST will be hosting again the 2nd International Preclinical Quiz and hope that more medical universities both local and international will participate, after all these students will have to work as a team upon graduation one day"
---
---
AIMST makes waves in Cambodia
Posted in New Straits Times on 6th April 2012.
PHNOM PENH, Cambodia, March 2012 – The National Center for Tuberculosis & Leprosy Control (CENAT), Phnom Penh, Cambodia invited a team of three lady students Lai Hui Ying, Valene Tang Wen Ying and Ooi Yean Wen all from 2nd MBBS AIMST University, accompained by their guides Professor C.Arun Kumar and Dr.C.Vijaya, to the World TB Day 2012 in CENAT, Phnom Penh. On this occasion, the students presented an award winning poster on tuberculosis.
The poster won the acclaim of the Minister of Health, Government of Cambodia, His Excellency Dr Mam Bun Heng, CENAT, Heads of WHO, USIAD in Cambodia & other NGOs. The poster is displayed at the CENAT, Phnom Penh, for university, also as a teaching aid and for public viewing.
---
---
NATIONAL MEDICAL STUDENTS CONVENTION
Posted in New Straits Times on 6th April 2012.
SUNGAI PETANI, Semeling, Kedah – The Inaugural National Medical Students Convention (NMSC) 2012 will be held on 7th to 8th April 2012 at AIMST University with its mission of achieving excellence in bridging the minds of young medical students in medicine and entrepreneurship. This convention is a result of collaboration between University of Malaya (UM), Universiti Sains Malaysia (USM) and AIMST Univeristy. It will be inaugurated by AIMST Acting Vice-Chancellor, Prof. Dr. Harcharan Singh Sidhu.
More than 350 student delegates have registered from most of the public and private medical Universities in Malaysia. Through this convention, preclinical students will be given exposure among others in the fields of specialization before moving on into the clinical phase. An introduction to entrepreneurship will provide a clear picture of what to expect upon graduation. This conference is also expected to foster friendship and cooperation among the students.
The conference provides a platform for medical students nationwide to share their knowledge and experiences in pursuing medical studies. Among the highlights of the events will be Clinical Skills training and Anatomy Dissection Sessions, Medical Quizzes and Medical Debates. Dr.P.K. Rajesh, Deputy Dean Preclinical Studies and the Advisor of NMSC will be co-ordinating a PAL (Peer Assisted Learning Session) with state of the art IT/AV facilities. In addition, there will be six plenary sessions spearheaded by nationally renowned doctors. A video footage of the (first time in Malaysia) Cadaveric Disc Nucleoplasty workshop conducted at AIMST on March 31st 2012 by Dato' Dr.Vasan Sinnadurai, Orthopaedic Surgeon, Pantai Hospital Ipoh and also Board of Directors, AIMST University and Dr. Achim Luth visiting professor from Germany, will be shown during this convention.
---