NATIONAL MEDICAL STUDENT CONVENTION (NMSC) 2012

Jointly organized by : AIMST UNIVERSITY, UNIVERSITY OF MALAYA & UNIVERSITI SAINS MALAYSIA
Venue: AIMST UNIVERSITY, Semeling, Kedah.
Date: 7th April 2012 – 8th April 2012
Registration Fee: RM 100.00/delegate
Dear Preclinical medical students,
The aim of the National Medical Student Convention (NMSC) 2012 is to give awareness on pathways to walk on upon their graduation by the best doctors in their respective fields in Malaysia. In addition, successful entrepreneurs are invited to address and share their experiences to trigger a whole new level of thinking whereby there would be a bridge built between the medical world and business world.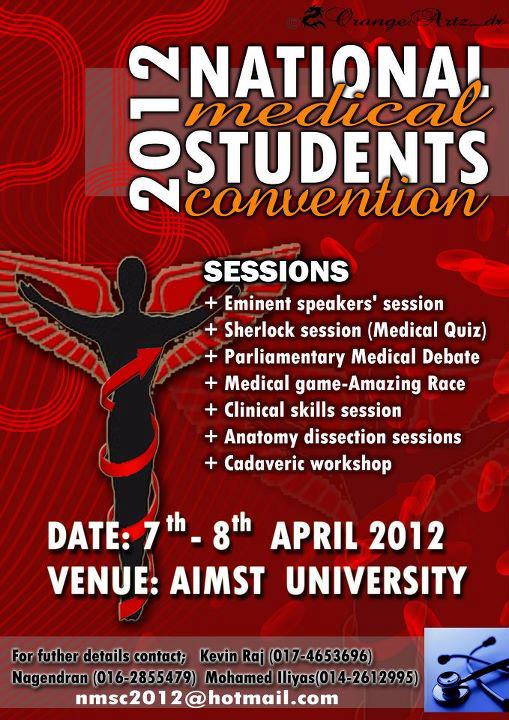 ---
---
OBJECTIVES
To give an exposure to the fields of specialization to the pre-clinical students before stepping foot into the clinical phase.
To expose medical students to entrepreneurship.
To give an opportunity to all delegates to socialize as well as to learn from the prominent speakers in the country.
To enhance networking between medical students within this region.
To unleash the hidden potentials among the delegates.
To build leadership, decision-making skills and self-confidence.

HIGHLIGHTS OF THE CONVENTION:
EMINENT SPEAKERS' SESSION
CLINICAL SKILLS SESSION & ANATOMY DISSECTION SESSION
CADAVERIC WORKSHOP
SHERLOCK SESSION-MEDICAL QUIZ
PARLIAMENTARY MEDICAL DEBATE ON MEDICAL ETHICS
BLEND MEDICAL AND ENTREPRENEURSHIP AMAZING RACE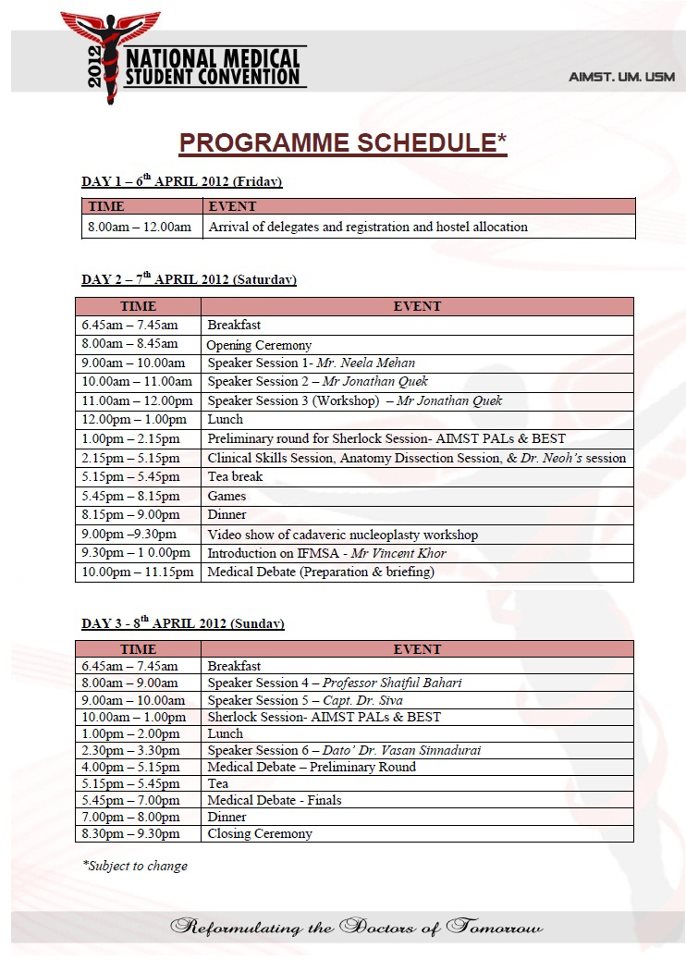 ## Official Invitation letter and registration form have been sent to all public and private medical universities' Dean in Malaysia.
For those who are interested,kindly get the registration form, tentative schedule and other details from your respective dean's office or from the link below.
For further enquiries, kindly mail us at : [email protected]
Or contact:
Mr. Kevin Raj (0174653696) – Director NMSC 2012 (AIMST)
Mr. Mohamed Iliyas (0149445285) – Co-director NMSC 2012 (UM)
Mr. Nagendran(0162855479) – Co-director NMSC 2012 (USM)
And do like us at our page, https://www.facebook.com/pages/National-Medical-Student-Convention-NMSC-2012/161159517332317 and stay tuned for more updates!
Thank you.
---
---
---