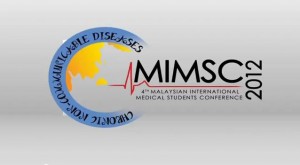 MIMSC 2012, Welcome you to Kedah
It is our great honor to invite you to the 4th Malaysian International Medical Students Conference (MIMSC) 2012, which will be held at AIMST University in Kedah, Malaysia from 25th to 27th May 2012.
AIMST University is proud to be the organizer of the 4thMalaysian International Medical Student Conference in collaboration with Malaysian Medical Association. The conference for this year is about "Chronic Non Communicable Diseases" which emphasizes on the severity of this diseases and strengthen our knowledge about it. Chronic diseases are diseases of long duration and generally slow progression is the leading cause of mortality in the world, representing 67% of all deaths in in our country. Examples of chronic diseases are cardiovascular diseases, diabetes, stroke and cancer. In this 4 days 3 night event we hope that AIMST University will be a good memory to cherish as there will be many interesting activities despite all the quiz, talks and seminar.
SMMAMS Official Website : http://smmams.org/
Official MIMSC 2012 Blog : http://mimsc2012.wordpress.com/
Video by: [BEST] Brilliant Entertainment Studios
Join us at:[BEST] Brilliant Entertainment Studios @ Facebook