AIMST Photography Club
A club opens for all AIMST staffs and students aiming for the rational interactions, unity, multidisciplinary benefits, and positive university life in the quest for a common interest of photography.
A few words from us
AIMST have the potential to produce more excellent photographers. This is due to the fact that almost every student owns at least a camera (either a phone-integrated or a compact camera). Furthermore, from a recent survey done on the students of AIMST (from different courses including Medicine, Dentistry, Pharmacy, Physiotherapy, Business, IT etc.), it is found that a fair amount of the students are interested in this field (whether they're beginner or professional in this field).
Photography is more powerful than words (as pictures worth more than a thousand words). Photography is not only important as part of memories, but also a multi-billion business that many fields rely on it, especially Business and Technology. Photography ranges from events photography to product promotion to astronomy, macro and micro photography. It involves not only the gadgets they use, but also their creative minds in framing composition.
First of all, with photography club, we can promote students' journalism skills in AIMST when participating in events (AIMST students can have a chance to take nice photo of AIMST and Sungai Petani, which can be use in AIMST's promotion of the University worldwide. Moreover, they can learn about photo rights and they can benefit from it by selling their nice shots). For those that are new to this field but are at the same time interested, they can also have the opportunity to be exposed to this interesting and fun field by joining.
Secondly, an exposure to advance photography world will open their minds to endless possibility and interest. (Special photographic outings – such as to the Zoo or Parks – can be organized to promote interactions between students. This will in turn prepare the student for their working life as not everything can be learnt from textbooks and classes. Furthermore, inviting professional photographers for talks may also benefit beginners and advance users. In AIMST MBBS course alone, there is more than 5 people I know having DSLR cameras. With such club exists, their DSLRs will not be sitting at the corners collecting dust. A photo a day will keep the fungus away).
Thirdly, Photography is not only important at their photo production, but also the post-production. (Having a graphic design and post-production course/talks will make butterflies out of a paper. Creativity is what motivates us to success).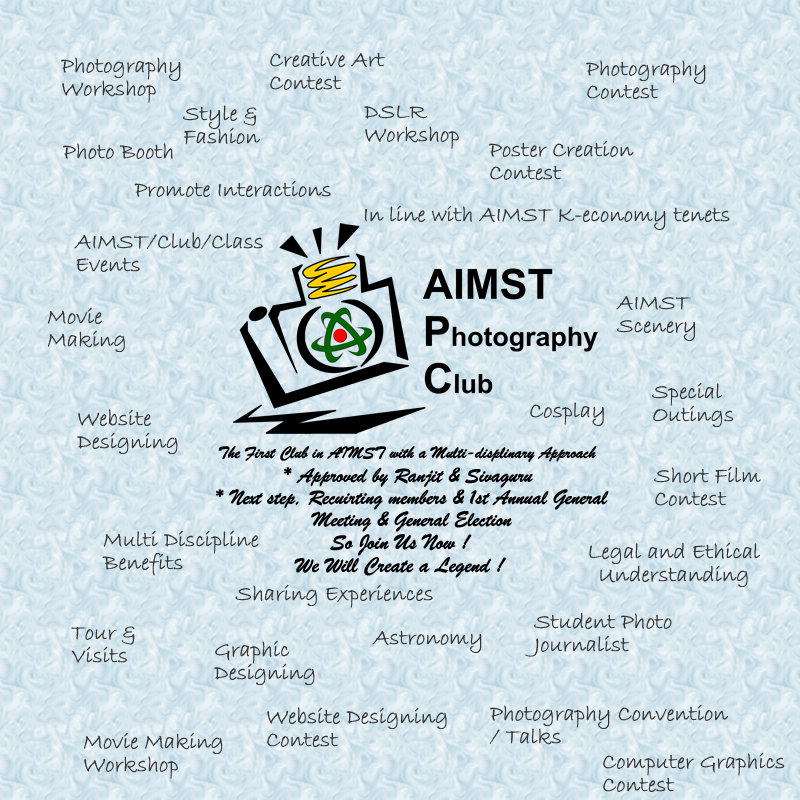 ---
---
INTRODUCTION
AIMST University Photography Club, is formed by AIMST Students under the common Interest of Photo shooting and editing.
Photography means the art, process or job of taking photographs or filming something. A photograph means a picture that is made by using a camera that has a film sensitive to light inside it. (Oxford Advanced Learner's Dictionary, International Student Edition, 7th Edition)
Photography is a healthy hobby which is recognized worldwide. It does not only emphasis on subject taken by camera, but also involves the skills and the team work effort to make the subject stands out. It also involves the successful communication with the subject or subject in charge. Furthermore, it will be a multi-billion profit business when comes to professional photography.
Hence, we strongly believe that the Photography Club will benefit AIMST students in knowledge, skills, and social well-being. It can be an add on advantage in future career either in the field of mass media (Photo Journalist, News Reporter), Sciences (Documentary, Astronomy) , Art (Creative Photography, Photo Studio) and Entertainment (fashion).
The Photography Club is open for all AIMST University Students to join, regardless of race, religion and origins. There is no prerequisite of previous photography experiences. We serve all members equally, regardless they are phone-camera, digital compact camera or DSLR users.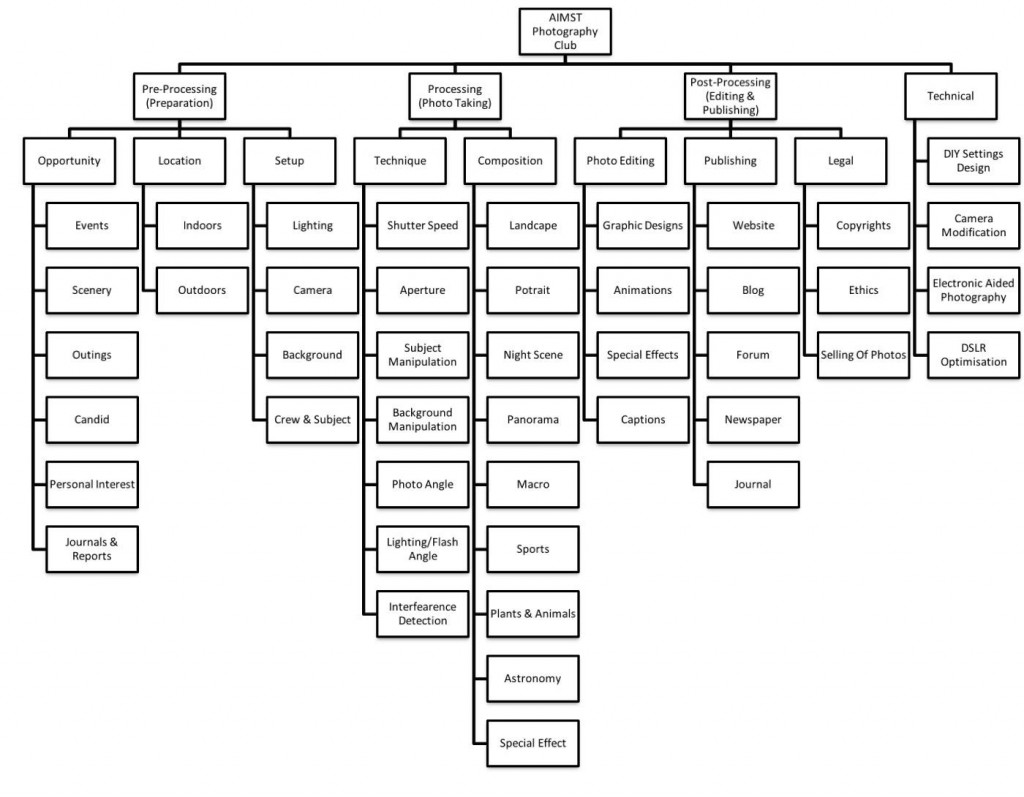 Based on The AIMST Photography Club Constitution 2009 (1st Edition)
---