8th Convocation Ceremony
10th October, 2015 was a momentous day at AIMST University. Over 550 students, together with their families and friends returned to AIMST University campus to receive their graduation degree scrolls. It was indeed endearing to see many graduands and their families travelling long distances for this occasion. 8th Convocation ceremony was without a doubt one of the most meaningful and joyful events of the year in AIMST University. The Graduation Steering Committee 2015 managed to showcase a respected and dignified event to honour our graduates.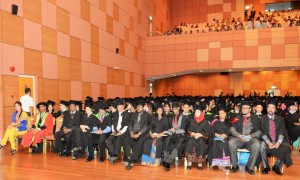 The ceremony began with the traditional procession of graduands walking into the Great Hall. Parents waved happily at the entourage, a sense of overwhelming joy and pride to see their child celebrate their accomplishments. A round of applause thundered across the Great Hall when the academic procession, grand procession and Guest of honour, the Chancellor and Chairman of AIMST University, YBhg Dato Seri Utama S. Samy Vellu entered the Great Hall. In his officiating remark, the Chancellor highlighted the importance of venturing into this world with a passion for lifelong learning, persistence and determination which would indeed guide our young graduates to greater heights. He was also immensely proud of the staff and management of AIMST University for bringing in transformative changes to the university.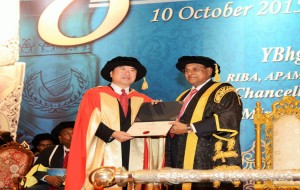 The Vice Chancellor, Senior Professor Dr. Manickam Ravichandran, in his welcoming address was delighted with the progress of AIMST University, especially in the area of research and innovation. He shared his happiness for the live streaming of the Convocation ceremony 2015 to the public which was a maiden effort in the history of AIMST University. Many were absolutely delighted since with the live streaming, it gave everyone an opportunity to visualize the achievements of AIMST University globally. The Vice Chancellor thanked all the parents who had sent their child to a green, state of the art campus. He also requested their continuing support to take the University to global heights.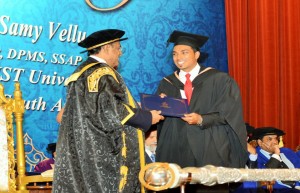 The conferment of the degrees was the culmination of the convocation ceremony. In recognition of the successful partnership between AIMST University and Kanagawa University, the President of Kanagawa University, Japan Professor Masaru Ishizumi was conferred with the honorary doctorate. This conferment forges a continued partnership between both the universities.
Graduands waited eagerly for their turn to receive their scroll. During the graduation ceremony, a total of 558 degrees were awarded to graduands from the various faculties. Individual students were also recognized for their outstanding overall academic performance in their programmes. Ms. Tan Xin Yi, from the Faculty of Dentistry was the recipient of the University Gold Medal Award 2015. A further 14 recipients of Doctor of Philosophy in Biotechnology, Master of Science in Biotechnology, Master of Business Administration, Master of Science in Medical Biochemistry, Master of Science in Medical Microbiology and Master of Science in Human Anatomy received their post graduate degrees.

The convocation ceremony ended joyfully when graduates walked out of the Great Hall with a feeling of accomplishment. Graduates were mobbed by their adoring family and friends with a multitude of flowers and photographs. It was indeed a wonderful sight to behold and cherish. Happy faces with joyful laughter and precious memories all around our beautiful campus certainly validated the 8th Convocation ceremony.
Contributed by: Mr. Christapher Parayil Varghese & Dr. K. Marimuthu, Graduation Steering Committee, 2015; AIMST University, Malaysia.
Source:AIMST E-Bulletin Volume I Issue II (january 2016)
The Steering Committee

Co-Chairpersons
Senior Professor Dr. Manickam Ravichandran
Professor Dr. Mohd. Baidi Bin Bahari
Associate Professor Dr. Kathiresan V. Sathasivam
Chairman
Sr. Assoc. Prof. Dr. Kasi Marimuthu
Academic Affairs
Mr. M. Sutharthan
Ms. Sumathi Darmalingam
Exhibitors & Vendors
Ms. Kaveta Supramaniam
Ms. Siti Salwa Binti Nordin
Health & Safety
Dr. Sawri Rajan Rajagopal
Dr. Gokul Shankar
Logistics
Mr. Muraly Velavan
Mr. D. Loga Vijaindran
Publicity
Mr. Karuna Kumegan
Mr. S. Maheswaran
Souvenir Programme Book
Ms. Faustina Lerene Dominic
Ms. Rebecca Jayamalar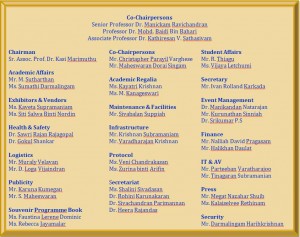 Co-Chairpersons
Mr. Christapher Parayil Varghese
Mr. Maheswaran Dorai Singam
Academic Regalia
Ms. Kayatri Krishnan
Ms. M. Kanageswari
Maintenance & Facilities
Mr. Sivabalan Suppiah
Infrastructure
Mr. Krishnan Subramaniam
Mr. Varadharajan Krishnan
Protocol
Ms. Veni Chandrakasan
Ms. Zurina Binti Arifin
Secretariat
Ms. Shalini Sivadasan
Dr. Rohini Karunakaran
Dr. Sivachandran Parimannan
Dr. Herra Rajandas
Student Affairs
Mr. R. Thiagu
Ms. Vijaya Letchumi
Secretary
Mr. Ivan Rolland Karkada
Event Management
Dr. Manikandan Natarajan
Mr. Kurunathan Sinniah
Dr. Srikumar P.S.
Finance
Mr. Nalliah David Pragasam
Mr. Halikahan Daulat
IT & AV
Mr. Parteeban Varatharajoo
Mr. Tinagaran Subramanian
Press
Mr. Megat Nazahar Shuib
Ms. Kalaiselvee Rethinam
Security
Mr. Darmalingam Harihkrishnan
Source: http://www.aimst.edu.my/convo2015/convo_2015/commitee.html
---
Chancellor's Message


It gives me great pleasure to welcome you to this graduation ceremony at which we acknowledge and celebrate the achievements of our graduates of AIMST University. First and foremost, I wish to congratulate you, our new graduates, on your tremendous accomplishment. You have attained this degree with enormous hard work and dedication, and now have greater potential than when you began your journey here in AIMST. I believe you have been trained and molded as competent Doctors, Dentists, Pharmacists, Biotechnologists, Engineers, Physiotherapists, Nurses and Business graduates by our university. Graduates, your achievements here are remarkable, but your route to this success was steered and supported by your parents, family members, friends, scholarships from different agencies and by AIMST faculty and staff members. Be grateful and reciprocate the same commitment to them and to your beloved country.
This is the 8th graduation ceremony I am presiding over, since the inception of AIMST University. I'm proud to acknowledge that AIMST University is a premier university in the northern region for quality education with a solid infrastructure and a strong human resource base on par with other leading universities in the region.
I do take pride in what the management and faculties have done in elevating the institution to this stature. It is noteworthy, that our academic excellence surpassed expectations while maintaining good morality and ethics. I am confident that AIMST University will continue to provide academic excellence in our pursuit of sustained, long term, and equitable economic growth that creates job opportunities and raises the standard of living of our people.
AIMST University currently enjoys 100% accreditation of all its 34 undergraduate and postgraduate programmes by the Malaysian Qualification Agency or MQA. AIMST is also recognized and approved by the Public Service Department for placement of students who are sponsored by the Malaysian Government. I'm delighted to note, that we have produced over 1000 quality doctors and will continue to produce capable doctors in the future. The Engineering programme is accredited by the Washington Accord and the Board of Engineers Malaysia. I am indeed proud, that one of our student from the Faculty of Engineering & Computer Technology, Mr. Shagilan a/l Bala was awarded the Gold Medal for his overall academic excellence by the Institute of Engineers Malaysia (IEM). AIMST University is also the first university in Malaysia to offer Bachelor of Dental Technology this year.
AIMST University is committed in creating the next generation of leaders, advancing human health, inspiring innovation and entrepreneurship and enhancing quality of life. In line with this, research and innovation are an integral component in this university. I am happy to note that there is a significant increase in research publications and grants from AIMST University. The Ministry of Science and Technology and Innovations (MOSTI) has approved AIMST University as the recipient of the ScienceFund, InnoFund and TechnoFund. AIMST researchers have also filed two patents to solve current problems; "Inflatable bed pan: for the elderly care and "Intelligent monitoring device for dengue mosquitoes".
AIMST University has created a niche for itself through its development of Massive Open Online Courses (MOOC) that has already reached global audience. To give an international exposure to AIMST students and to help them become a part of the global scenario, our MBBS students are given an opportunity to pursue their elective posting at the prestigious Queen Mary University, London. Students from Kanagawa University, Japan are also pursuing their studies here as part of an international academic programme.
I envision seeing this university launch other relevant programmes in the future that will enhance the society and the country as a whole, especially in the field of Biomedical, Allied Health Sciences and postgraduate programmes.
This University was built with a purpose of serving the society. In line with that, AIMST University has reached out to the community by adopting 18 schools and offering free dental services through our AIMST Dental Institute with a total of 25,000 registered patients. In the near future we will be building a full-fledged 200 bedded hospital and providing scholarships for deserving students to embark on their courses.
Dear graduands, we have given you immeasurable skills to make a difference in the world. Venture into the unknown world with a passion for lifelong learning, no matter where your life journey leads, and that your persistence and determination will definitely guide you to greater heights. As tomorrow's leaders, the future depends on you. I wish you every success in your family life, career and continue to be of service to mankind as graduates of AIMST University.
Once again, I extend my very best wishes and warmest congratulations to all of you.
May God bless you!
Source: http://www.aimst.edu.my/convo2015/convo_2015/message.html
Chief Executive & Vice Chancellor's Message

It is my great honour and privilege to welcome you all to the 8th AIMST Convocation Ceremony 2015. Graduation ceremony is one of the most memorable and joyful event in any student's life and in any institution of higher learning. I take this opportunity to express my most sincere congratulations to all our 2015 graduating students. Dear graduates, you should be proud of your accomplishment today. Your presence in this Great Hall would not have been possible without the support, encouragement and dedication of your parents, family members, friends and staff of AIMST University. I'm grateful to all the parents here, for choosing AIMST University as an academic pathway for your children. I would also like to convey my sincere appreciation to the academic and non academic staff of AIMST for their unstinting support and commitment in shaping you during these defining years and for continually working hard to develop this university into a place of academic excellence and research attainments.
AIMST University has created 3265 graduates, including 1185 quality Doctors, 320 Dentists, 422 Pharmacists, 604 Biotechnologists and several Allied Health Professionals, Engineers and Business graduates. On the research front, several external grants were received from various Malaysian agencies with a total cumulative budget of one million ringgit. On the innovation front, I'm proud to announce, AIMST University has filed two patents, one on "Inflatable Bed Pan" and another on "Intelligent Ovitrap to monitor dengue mosquitoes". I believe these academic, research and innovations carried out by AIMST University will definitely make a difference and create a positive change in the society and for the country as a whole.
Today, we are indeed honoured by the presence of our Chancellor, YBhg. Dato Seri Utama S.Samy Vellu. His exemplary leadership over the past 15 years has placed AIMST University in the global academic map. We are extremely happy to welcome the Board of Directors who are the backbone of AIMST University in steering and developing this university into a place of academic excellence through their wisdom, and commitment.
I thank our international partner universities Queen Mary University of London, Kanagawa University of Japan, JSS University of India, DHA Suffa University of Pakistan, Bahria University of Pakistan, Prince of Songkla University of Thailand and Nguyen Tat Thanh University, Vietnam for their significant contributions to AIMST University's development. Our collaborations in terms of student and staff mobility and in research with these universities have strengthened the placement of AIMST University in the international arena of education.
University education, intellectual exertion and world class educational facilities are not only the main motto of our university, but the improvement of the livelihood of all our citizens, including the poor and the marginalized. This is the vision of our Honorable Chancellor as he believes 'quality education will bring new talents and uplift our communities in the country'. We are determined that this university, reflecting the name that it carries, will always strive to be diverse, inclusive, cosmopolitan and serving all Malaysians.
As graduates, you have had the honour of studying at a fine and green campus university, one that deservedly commands an enviable academic reputation. I believe that during your time here you have learnt the valuable lesson of rethinking education in all of its facets. Today, as you receive your degrees, you hold the key for the door of your future professional success. This is your achievement but you should always remember the sacrifices others have made to ensure that you stand here today. As future leaders, I trust that the leadership qualities that you demonstrate in the future will reflect the values that you have nurtured during your years at AIMST University. Your intelligence, your capacity for hard work and the education you have earned and received, give you unique status, and unique responsibilities. Be a proactive person and reciprocate the same to your parents and be a responsible citizen of Malaysia.
Dr. A.P.J Abdul Kalam, former President of India and a great visionary leader said that "youths should have the courage to think differently, courage to invent, to travel the unexplored path, courage to discover the impossible and to conquer the problems and succeed". These are great qualities that you must work towards.
Today is your day, to remember, to celebrate and cherish your accomplishments. We wish you a wonderful and joyful day of celebration in your life. AIMST University is proud of its alumni, and dear graduates, be proud of AIMST University, your alma mater. I wish you every success in your chosen careers and hope that you will keep in touch with us and encourage our development in the upcoming years.
On behalf of all alumni, students, faculty and staff members, I extend my warmest congratulations to you on your success.
Thank you.
Source: http://www.aimst.edu.my/convo2015/convo_2015/message.html
---

AIMST University 8th Convocation Ceremony 2015 Procedures and Guidelines
Download: AIMST University 8th convocation ceremony guidelines 2015