AIMST EARTH HOUR 2015
Date: 25th March 2015 (Wednesday)
Time: 7.00 PM – 10.00 PM
Venue: AIMST Cafeteria Foyer
Organised by : SEAD of AIMST University
In Collaboration with : Leo Club of AIMST University (Omega)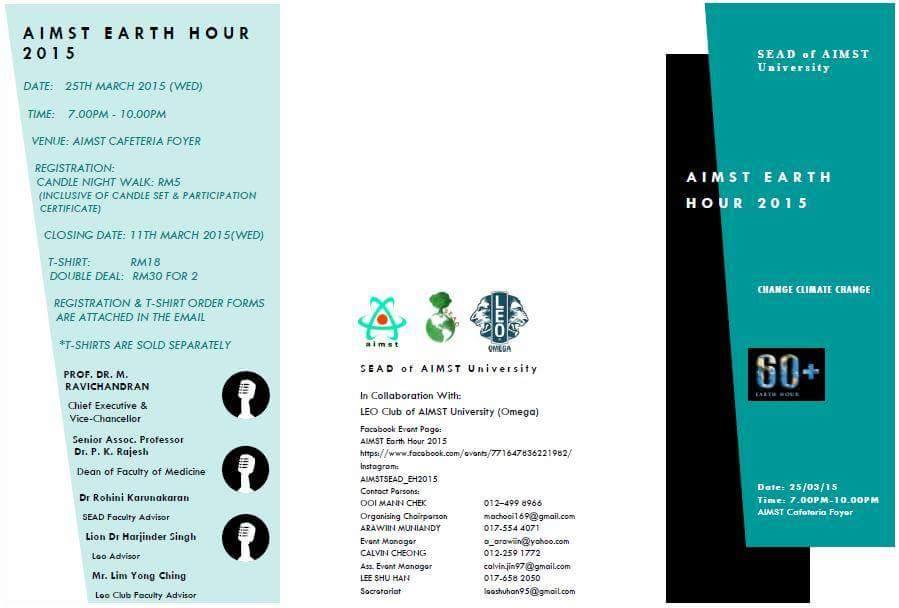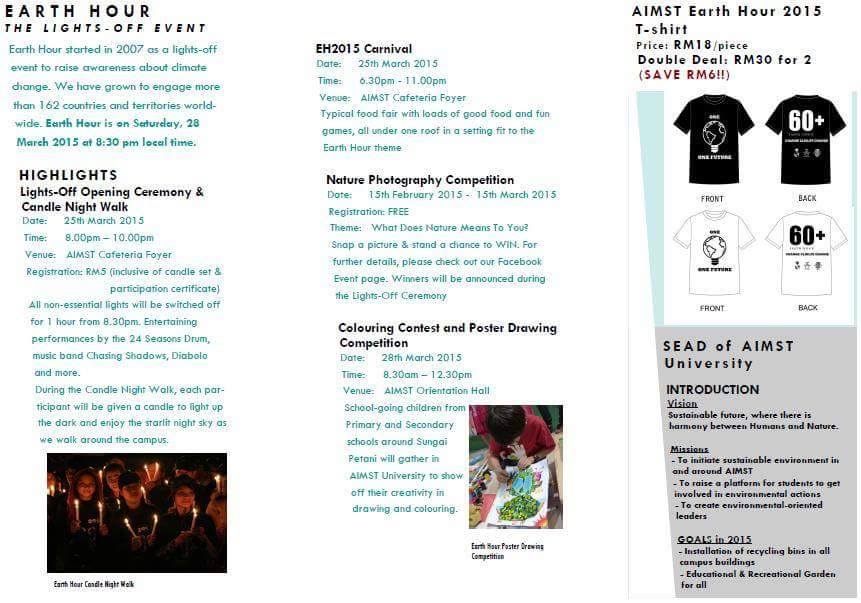 History
Earth Hour – The Lights – off event
Earth Hour started in 2007 as a lights-off event to raise awareness about climate change. We have grown to engage more than 162 countries and territories world-wide.
Earth Hour is on Saturday 28 March 2015 at 8.30 pm Local time.
---
---
Highlights
Lights-Off Opening Ceremony & Candle Night Walk
Date: 25th March 2015 (Wednesday)
Time: 8.00 PM – 10.00 PM
Venue: AIMST Cafeteria Foyer
Registration: RM5 (inclusive of candle set and participation certificate)
All non-essential lights will be switched off for 1 hour from 8.30pm. Entertaining performances by the 24 Seasons Drum, Music band Chasing Shadows, Diabolo and more.
During the Candle Night Walk, each participant will be given a candle to fight up the dark and enjoy the starlit night sky as we walk around the campus.
Earth Hour Carnival
Date: 25th March 2015 (Wednesday)
Time: 6.30 PM – 11.00 PM
Venue: AIMST Cafeteria Foyer
Typical food fair with loads of good food and fun games, all under one roof in a setting fit to the Earth Hour theme.
Nature Photography Competition
Date: 15th February 2015 – 15th March 2015
Registration: FREE
Theme: What Does Nature Means To You ?
Snap a picture and stand a chance to WIN. For further details, please check our Facebook Event page. Winners will be announced during the Lights-Off Ceremony.
Colouring Contest and Poster Drawing Competition
Date: 28th March 2015
Time: 8.30am – 12.30pm
Venue: AIMST Orientation Hall
School-going children from Primary and Secondary schools around Sungai Petani will gather in AIMST University to show off their creativity in drawing and colouring.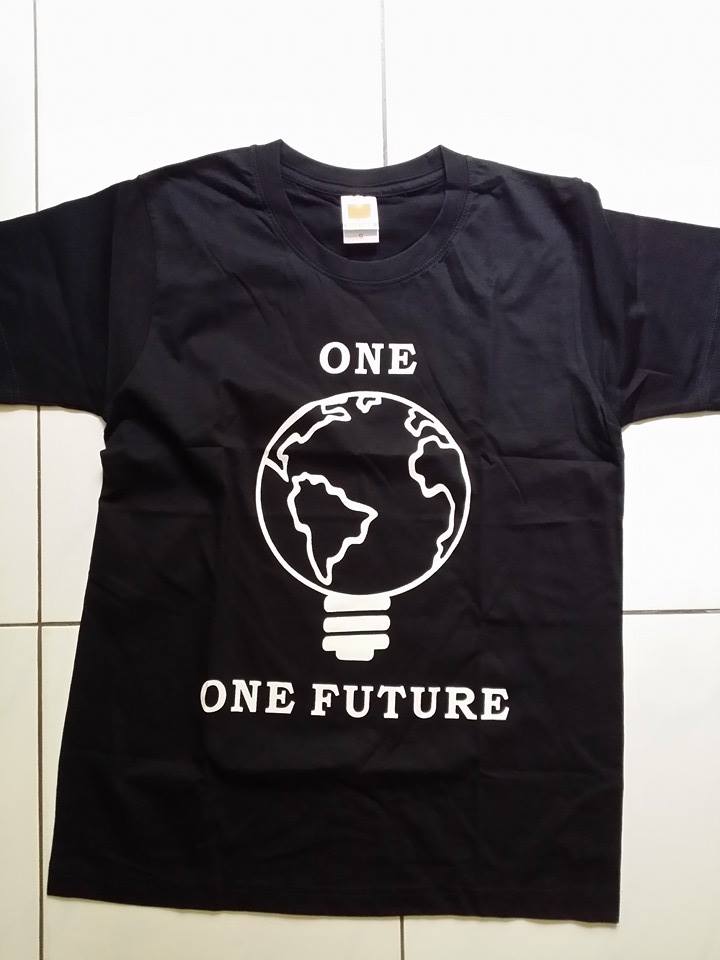 ---
---
---