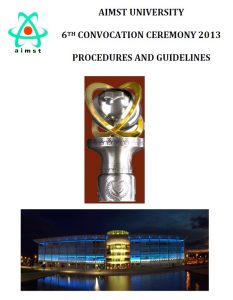 Convocations are meaningful, joyous and memorable occasions. The management of AIMST hopes that you will give us your fullest cooperation to ensure the smooth running of this year's ceremony. We hope that this Convocation Procedures and Guidelines booklet will be useful to you.
Download: AIMST University 6th Convocation Ceremony Guidelines 2013
CONVOCATION CEREMONY
AIMST 6th Convocation Ceremony will be held on the 12th October 2013 (Saturday) in the Great Hall, at AIMST University, Semeling, Kedah Darul Aman. This ceremony consists of ONE session.

---
---
COLLECTION OF ACADEMIC ATTIRE
Date : 11th October 2013 (Friday)
Time : 10.00 a.m. – 7.00 p.m.
Venue: Basement Examination Hall
DRESS REHEARSAL
Date : 11th October 2013 (Friday)
Time : 2.00 p.m.
Venue : Great Hall, Administration Building, AIMST University
RETURN OF THE ACADEMIC ATTIRE
Date : 12th October 2013 (Saturday)
Time : 2.00 p.m. – 5.00 p.m.
Venue: Basement Examination Hall
---