Report on Karthigai festival-by organizing committee


Kathigai Deepam, the festival of lights was celebrated by the staff and students of AIMST University at Semeling, Kedah on 8th December 2011 with pomp and glory. The event was hallmarked by the pictorial and artistic depictions of peacock in rangolis and spectacular lighting of 1818 ghee lamps all over the campus. Karthigai is an Indian cultural festival of lamps celebrated to usher in prosperity and joy. The lighted lamp is considered an auspicious symbol and it is believed to ward off evil forces. Lighting of lamps/candles is a practice across all religious faiths. Days before Hari Raya, house compounds, particularly those in the countryside will be lit up with oil lamps known aspelita or panjut. In Buddhism, the lighting of a candle or an oil lamp represents the expression of wisdom. Lighting of candles in churches is a popular practice all over the world and the event at AIMST was significant as it was in December, the month of Christmas celebrations. Dr Gokulshankar, Advisor of the event said that Karthigai Deepam is one of the oldest of Tamil festivals and the earliest references to the festival is found in the Ahananuru, a legendary Tamil book of poems, which dates back to the Sangam Age (200 B.C.).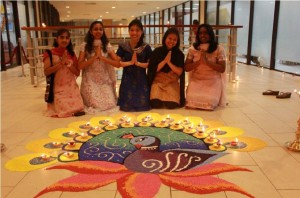 After the lighting ceremony, the students and staff gathered in the hall for spiritual deliberations and cultural events. The Dean of Faculty of Medicine and Deputy Vice Chancellor, Prof KR Sethuraman narrated the mythological story for celebrating the Karthigai festival and highlighted that the event symbolizes the idea of illuminating the darkness of ignorance with the knowledge of light. He also said that the Vice Chancellor Prof Harcharan Singh Sidhu and the AIMST Management are interested to promote such cultural events to bring in harmony and high morals among the students.

---
---
The organizing chairpersons of the event Ms. Kobbiganivaarani and Ms. Jaya Rudha, both medical students of AIMST were enthusiastic that students of all ethnic background representing all faculties in AIMST participated in the lighting ceremony with zeal and interest. The organizing chairpersons also reiterated that the credit of the success of the event should be attributed to the support and encouragement of AIMST management, the guidance from the staff, the untiring efforts of the organizing committee and the overall participation by the students of AIMST.Mr. Ranjit Singh, Head of students affairs said that the cultural events like Karthigai not only bring out the hidden talents within students but also celebrate the "unity in diversity" which is the essence of the 'oneness' (Satu Malaysia) theme of this great nation. Dr Manikandan of Faculty of Dentistry said AIMST University is always forerunner in innovation and creativity and this cultural event was yet another exemplification of that fact.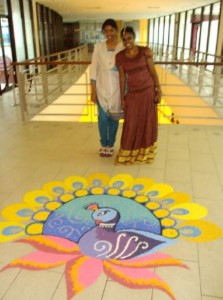 The grand event concluded with the distribution of prasadham (eatables) to all the participants.
Source: AIMST University Faculty of Medicine Newsletter Volume 3 (March 2011 – Dec 2011)
---