AIMST University Reaches Out a Helping Hand
Report by R.E.D association
Red is the colour of prosperity, the colour of love and now there is an addition to this list, R.E.D Association – RED being an abbreviation of Reach out, Embrace and Deliver. This is an association formed by the medical students of AIMST University in Sungai Petani, Kedah, under the umbrella of MEDSA (medical students association of AIMST University), which aims to provide financial aid to the needy and deserving patients of Hospital Sultan Abdul Halim ( Sungai Petani )and Hospital Sultan Bahiyah (Alor Setar). Applications for help, processed through social welfare units, will be assessed for eligibilit y by a panel of doctors on the basis of specified criteria.
---
---
The launch of this association was held in the Great Hall of AIMST University on the 21st of April 2011.The launch was officiated by Prof K.R.Sethuraman (Deputy Vice Chancellor, Academic and International affairs, Dean, Faculty of Medicine and Patron RED association) along with Senior Associate Professor Dr.R.Premkumar (Registrar, AIMST University and Dean of School of Business Management), Dr P.K Rajesh (Deputy Dean, Pre-clinical Studies and Advisor, RED association), Ms Ooi Guat Poh (representative from Hospital Sultanah Bahiyah) and Mdm Oh Siew Lee ( representative from Hospital Sultan Abdul Halim). Faculty, staff, students and members of the public numbering more than 1100 people participated in the launch.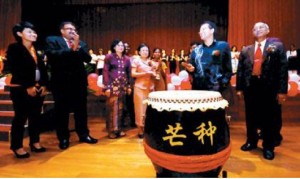 The patron, the advisor and the guests of honour hit the gong to mark the launch of the Red Association and also the Music of Hope Charity Night. The staff and students of AIMST University showcased their immense talent in music/drama and meaningful humour to keep the 1000 plus crowd enthralled for more than 3 hours. The president of Red Association, Ms.Yee Thean Sim, said that the idea of this association came to her and her friends over a talk over coffee. According to her, "it was a dream come true as I never thought that my deepest desire could be realised". She further thanked the kind and generous sponsors of
'music of hope' – but for them the event would not have taken place. The Red Association aims to take pledges from people from all walks of life with the noble intention of reaching out a helping hand.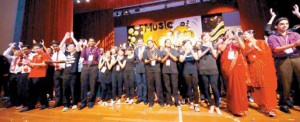 AIMST is the first medical university in Malaysia to establish such a fund-raising organization, and they hope to spread the R.E.D spirit to other medical colleges as well, eventually leading to a nationwide collaborative effort uniting all the medical students in this country for a noble cause.
Potential philanthropists can contact Dean's office, Faculty of Medicine,AIMST University Mr.Azhar Bin Ghouse, External Auditor, Red/Asst.Registrar, Faculty of Medicine-04-429800 (Ext-8123)
Dr.P.K.Rajesh, Advisor Red/Deputy Dean Preclinical, Faculty of Medicine-04-429800 (Ext-
3030) Hp-0164959372
R.E.D was in news in most Malaysian dailies.
R.E.D co-organized the Ramli Ibrahim Odissi-stirred program on 16 July 2011
R.E.D members were involved in many medical camps
R.E.D did its bit to help the Thailand flood victims by launching a collection drive coordinating with Rotary club of SP Bandar
Source: AIMST University Faculty of Medicine Newsletter Volume 3 (March 2011 – Dec 2011)
---
---
---