FOM's 1st Intrafaculty Sports Week.
Date: 30th January – 3rd February 2012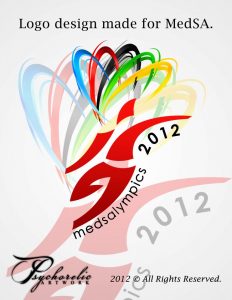 1st MedSALYMPICS by MedSA (AIMST University Medical Students' Association) – Official Logo
Meaning by Naga Bn:
1. The RED human vector – At a first glance, it symbolize the energetic movement & excitement of MedSALYMPICS.
2. 5 coloured splash over the human vector – the 5 major goals to be achieved by MedSALYMPICS:
BLUE: symbolize calmness & subsequently focuses on the task at hand
RED: symbolize energy & impulsively builds leadership quality and courage
BLACK: the colour of authority & power which aimed to stabilize ourself / control our ownself throughout the MBBS journey
GREEN: traditional colour of harmony which teaches us to pace the energy well in community to create peace
YELLOW: stimulates the mental process & encourages communication between medicos
Designed By : 2012 © PSYCHORELIC ARTWORK
---
---
MedSA (AIMST University Medical Students' Association) will be holding the AIMST University FOM'S 1st Intrafaculty Sports Week 2012 from the 30th of Jan to the 3rd of Feb. This will be an on going event throughout the week from 5-8 pm…
The main objective of having this event is to serve the purpose of a qualifier to the AIMST Interfaculty Sports Event which will be happening on the 20th of Feb till the 24th of Feb…For those who are interested please get the registration forms from the respective Medsa rep as follows:
Batch 17- Puventhiran Pannirselvam & Santhini Ramani
Batch 16- Dinesh Alagoo
Batch 15- Naavin Kumar
Batch 14- Nicholas Cheong
Events that shall be on going includes
BADMINTON MENS SINGLES
MENS DOUBLES
FEMALES SINGLES
FEMALES DOUBLES
TRACK & FIELD ( Male & Female)

100 metres
200 metres
400 metres
4×100 metres
4×200 metres
4×400 metres
1500 metres

FUTSAL (Male) 5 on 5 , 7 in a team ( 2 subs)
BASKETBALL (Male & Female) 3 on 3, 4 in a team (1 sub)
SWIMMING MENS FREESTYLE
MENS BACKSTROKE
FEMALES FREESTYLE
FEMALES BACKSTROKE
March Past
For the closing ceremony there will be a march past which will be compulsary for each batch to send their team. The mininum numbers required for participation is as follows
Batch 13- 20 students
Batch 14- 30 students
Batch 15- 50 students
Batch 16- 50 students
Batch 17 -50 students
The closing ceremony will be held on the final day, which is the 3rd of Feb from 7-9pm….
Registration fee
Badminton RM 3 per category for each individuals
Track & Field Rm 3 per category for each individuals
Futsal Rm 25 per team
Basketball Rm 10 per team
Registration to be done by 26th of January 2012 by 12.00 pm.
Participants are allowed to enter only ONE event but are allowed to choose more than one category in the same event.
There will be a briefing session at the Student's Orientation Hall on the 27th of January 2012. Further details shall be given then.
---
---
---