PARKING ALERT
From:Student Affair Division
1. All Students vehicles must have a valid sticker.
2. Vehicles must be parked at designated zones only.
3. Hostel car parks are for hostellers only.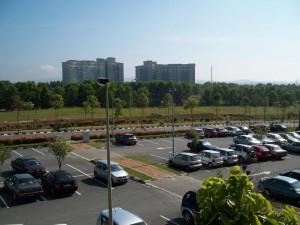 With immediate effect all vehicle owners in contravention of the above will have a fine of RM50 imposed for each offense as stipulated in the students handbook section 5.12 sub section 5.12.1/5.12.2.
This fine will be deducted from the student's university deposit. Upon depletion of the deposit, the student is deemed to owe fees to the university and will have his/her exam result withheld.
By order,
AIMST Management
22 February 2011
——–
Effective on 15th March 2011 (Day) , Please be informed, all cars without valid be diverted to zone 11. (Next to Main Guard House)
---