AIMST UNIVERSITY SWIMMING POOL
RULES & REGULATIONS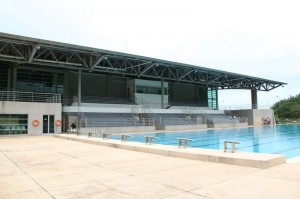 All Swimmer / bathers MUST wear a swimming cap (including INFANTS and CHILDREN).
NO bikinis / 2 piece swim suits (Ladies and children above 7 years).
UNDERGARMENTS are not allowed with your swimming attire on.
Boxer shorts / other shorts, t-shirts and slacks are NOT permitted in the pool.
Foam boards / foam based swimming aids are NOT allowed in the pool (only sponge like and plastic boards permitted).
NO clothes, towels, bags / other personal artifacts to be placed on the pool deck.
NO shoes / slippers / other footwear permitted on the pool deck.
NO fins and snorkeling equipment allowed.
NO plunging / driving into the pool.
NO food and drinks on the pool deck.
Only arm floats, chest floats and plain ring floats are allowed. Sharp and hard object are not permitted in the pool, (such as training paddles).
SHOWER before entering the pool.
Soap and other substances that might affect pool quality are NOT allowed.
Do NOT run / chase each other on the pool deck.
In case of accidents, however minor, please inform the Life Guard on duty or pool attendants.
Sponge – like boards provided by the pool are reserved SOLELY for use by authorized swimming instructor only.
The Life Guard on duty / the pool attendants reserve the right to refuse entry to any guest / unauthorized guest or to request guest to leave the pool premises for misconduct / inappropriate attire / do not posses required or valid documents.
AIMST UNIVERSITY and the pool authorities will not be held responsible for any loss or damage to personal belongings.
Source: Aimst University Swimming Pool Rules & Regulations Plate
---
---
---